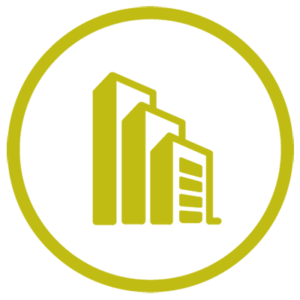 Buying, selling and developing real estate
Legal advisory on real estate in Germany
We support you with all projects regarding the acquisition, sales and development of real estate in Germany. We feel at home with German real estate law and we know what motivates and concerns international investors on the German real estate market. We support and advise German as well as international investors and real estate funds in all legal issues.
To be specific: This is how we can assist you – three cases in point for our legal advice concerning your real estate business in Germany
Are you planning to acquire real estate in Germany as an institutional investor?
We assess all legal aspects of the real estate and its acquisition beforehand, point out opportunities and risks related to the purchase, negotiate and notarise the contract and clarify any issues relating to financing and mortgaging.
Are you planning to develop construction projects in Germany as an institutional investor?
In this case we shall assess the legal framework, work together with you to arrange the necessary architects' and construction agreements and support you with clarifying any possible issues regarding regulatory approval by the authorities or in cases of issues with neighbours or other involved parties.
Are you as a landlord or as a tenant planning to conclude a rental agreement for a commercial property?
We can advise you on all legal aspects of contract conclusion, draft the new commercial rental agreement and, if you wish, negotiate with landlord or tenant on your behalf.
In particular, we offer legal advice in the field of real estate law in the following areas:
Acquisition and sales of individual properties, apartment houses, portfolios: e.g., due diligence, drafting of sales contracts, negotiating sales contracts
Structuring and supervision of bidding procedures
Real estate and construction project development: construction projects, public-private partnership, neighbourhood agreements, urban development contracts, publicly funded housing programmes
Construction and architecture law
Division of real estate according to the German "Wohnungseigentumsgesetz" (residential property ownership law) and sale of privately owned residential property: e.g., division, due diligence, declarations of division
Commercial tenancy law: e.g., contractual arrangements and termination of contract
Cost-induced rent in subsidized housing
General tenancy law including litigation, rent increases, actions for eviction and actions for payment
Support with your day-to-day property management
Operating and heating costs: e.g., billing and advice regarding peculiar aspects
Legal support for real estate modernization measures
Supervision of share deals
Advice concerning the financing and re-financing of real estate
Advice in connection with publicly subsidized real estate: e.g., feasibility calculation, discharge of loans, rent adjustments
Do you wish to purchase, sell or develop property in Germany?
Your contacts at Tyskret Sagawe & Klages for this area are: